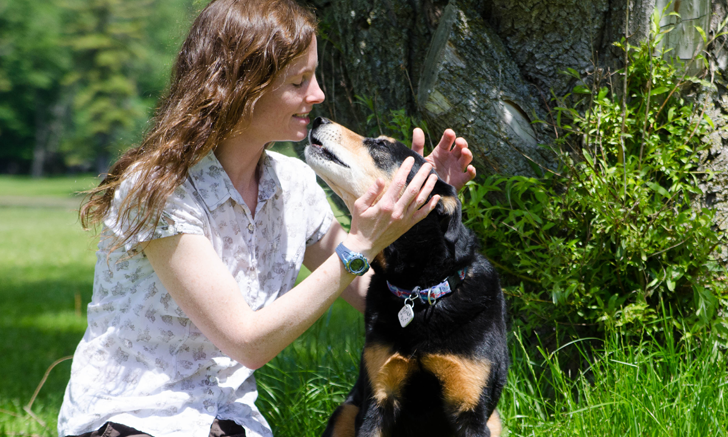 Public speaking, event production, and fundraising were never in Kyle Stevenson's plans after she graduated from University of Prince Edward Island's Atlantic Veterinary College.
The self-described shy veterinarian expected to practice medicine and surgery at the animal hospital in New York where she had externed. But when she lost her beloved dog Potter to cancer, Dr. Stevenson's grief gave her the determination to step outside the familiar world of veterinary practice and educate pet owners about early cancer detection in dogs.
Since Dr. Stevenson started the nonprofit Paws4Potter in 2016, she has raised more than $70,000 for canine cancer research.
The Dog that Started It All
When Dr. Stevenson met Potter, he was a one-year-old stray from a shelter that became her third-year surgery dog at veterinary school. Stevenson and the silly black-and-tan pup quickly bonded, and after he was neutered and available for adoption, she took him home. He was by her side through the last year of vet school, relocating, and the early years of practice.
When Potter started slowing down, Dr. Stevenson told herself he was just getting older. Then a cardiac ultrasound revealed a tumor in his left ventricle. For the first time, Dr. Stevenson was on the receiving end of devastating news. Her dog had cancer, and there was no cure.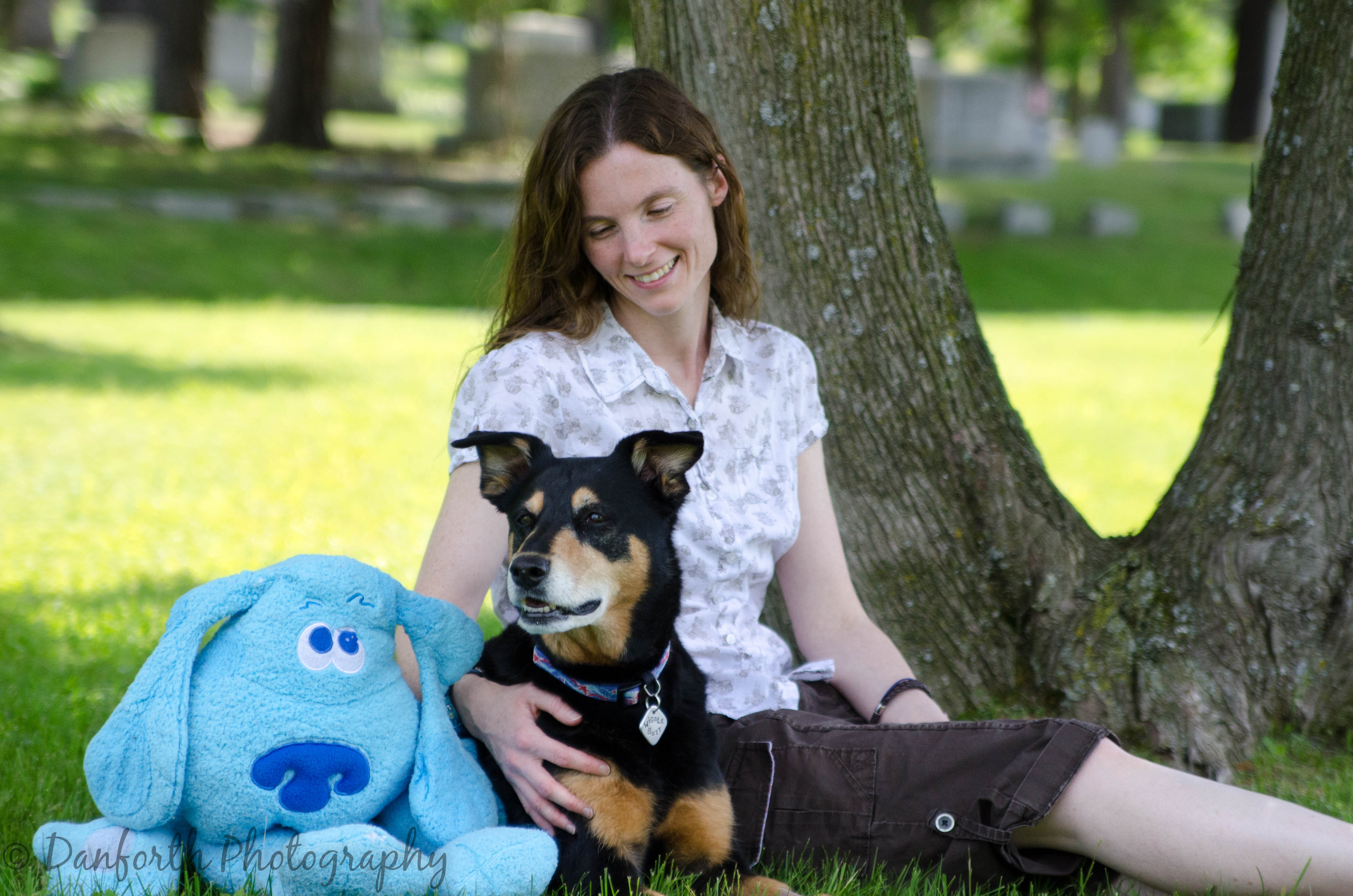 Dr. Stevenson with her beloved Potter. Photographed by Patrick Danforth.
After Potter's death, Dr. Stevenson found herself scrolling through social media posts to pass the sleepless nights—and discovered like-minded people who had also lost pets to cancer. She discovered the Puppy Up Foundation, a national organization that funds comparative oncology research. It was started by a man who lost his Great Pyrenees to cancer, and then began walking across the country with his other dogs to raise money and awareness. Stevenson connected with the National Canine Cancer Foundation (NCCF), too. "I thought maybe I could do a walk in memory of my dog," Dr. Stevenson said. "And then it kind of blossomed from there."
Making Strides for Canine Cancer Research
With guidance from NCCF, Dr. Stevenson organized her first dog walk for cancer in her upstate New York community. A friend's daughter designed the T-shirt logo. Dr. Stevenson invited crafters and vendors and added a stage for speakers to talk about canine cancer. That first 2016 event was small but successful and encouraged Stevenson to do more.
Supporters walk to raise awareness in the fight against canine cancer.
With help from her father's business lawyers, Dr. Stevenson set up a nonprofit in Potter's name, and Paws4Potter officially became a nonprofit in 2017, on Dr. Stevenson's birthday. The fundraising dollars go to NCCF donations and setting up the walks: pulling permits, renting port-a-potties, and paying for event insurance. Dr. Stevenson pays for a lot of event swag herself because she hates to ask people for contributions.
"I'm no good at fundraising but I am very creative," she said, and credits friends, family, and volunteers for turning her ideas into reality. Each year, Dr. Stevenson expands her efforts. She hosted talks for pet owners with Dr. Sue Ettinger, The Cancer Vet. They went to big pet expos and Stevenson started collaborating with more veterinarians.
"I'm trying to educate the public as much as possible about cancer, treatment options, and thinking outside the box with nutrition and other things," she said.
Community Matters
Along with education, giving people a place where they can connect is key for Dr. Stevenson. "At the beginning, the big thing for me was finding people in a similar position, who would understand what I was going through," she recalled.
Dr. Stevenson became certified in pet loss and bereavement and started support groups in her community and online. In 2018, she also got certified in hospice and palliative care. Through all of this, she has found and fostered a camaraderie among pet owners who have lost their dogs to cancer.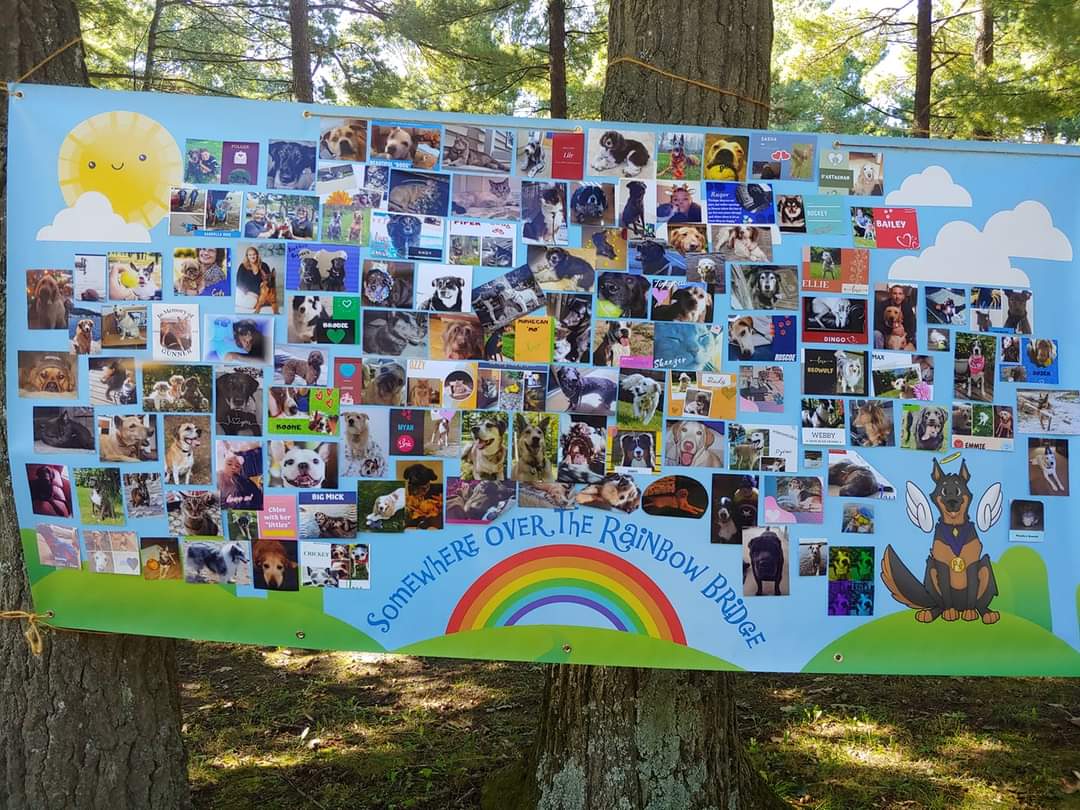 Pet owners commemorate the canine companions they have lost to cancer.
While there are still days that are hard, the nonprofit is a creative outlet that offers a way to give back to other people. "I felt so helpless when I found out Potter had cancer," Dr. Stevenson said. "This gives me a way to remember him and still give him life. It fills me up more than wears me down." 
Next, she wants to reach even more people. "I'm trying to help people understand that cancer is a thing in pets, but you don't have to be without any sort of hope."