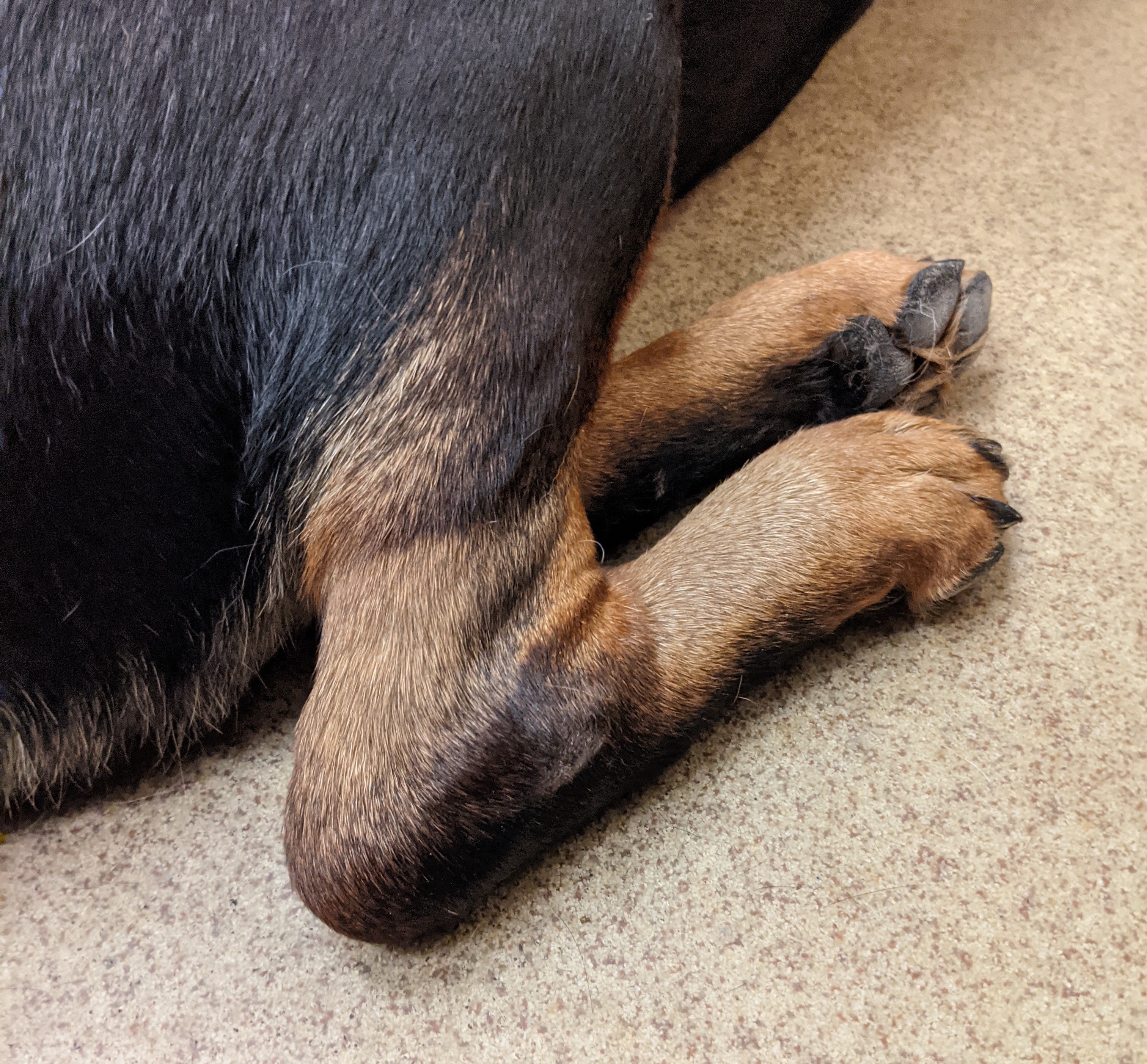 FIGURE 2
Mild edema of both pelvic limbs, distal to the tarsi
Lulu, a 4.5-year-old, 71.2-lb (32.3-kg) spayed rottweiler, is presented for a slow and tentative gait of 3-days' duration, as well as lethargy and decreased appetite of 2-weeks' duration.
---
History
Lulu is an indoor-only dog. Another dog also lives in the home. Routine flea, tick, and heartworm preventives are current.  
Lulu was diagnosed with osteosarcoma of the left distal radius 8 months prior to current presentation. At that time, CBC and serum chemistry profile were unremarkable, thoracic radiographs showed no evidence of pulmonary metastasis, and radiographs of the left thoracic limb revealed an aggressive, monostotic osseus lesion of the left distal radial diaphysis/metaphysis. Fine-needle aspiration results were consistent with a sarcoma. Left thoracic limb amputation was performed 1 week after diagnosis, followed by administration of carboplatin (300 mg/m2 IV every 3 weeks for a total of 6 treatments).
Physical Examination
On physical examination, Lulu is quiet, alert, and responsive. Her temperature is 102.7°F (39.3°C). She is mildly tachycardic (132 bpm) and panting. BCS is 3/9. Bilateral scleral injection and mucoid ocular discharge are present (Figure 1). Lulu exhibits lameness with a slow and tentative gait (ie, walking on eggshells) in her remaining limbs. Mild to moderate edema and warmth is appreciated distal to the carpus/tarsi (Figures 2 and 3) in all limbs, but no apparent pain is appreciated on palpation of the distal limbs or elsewhere.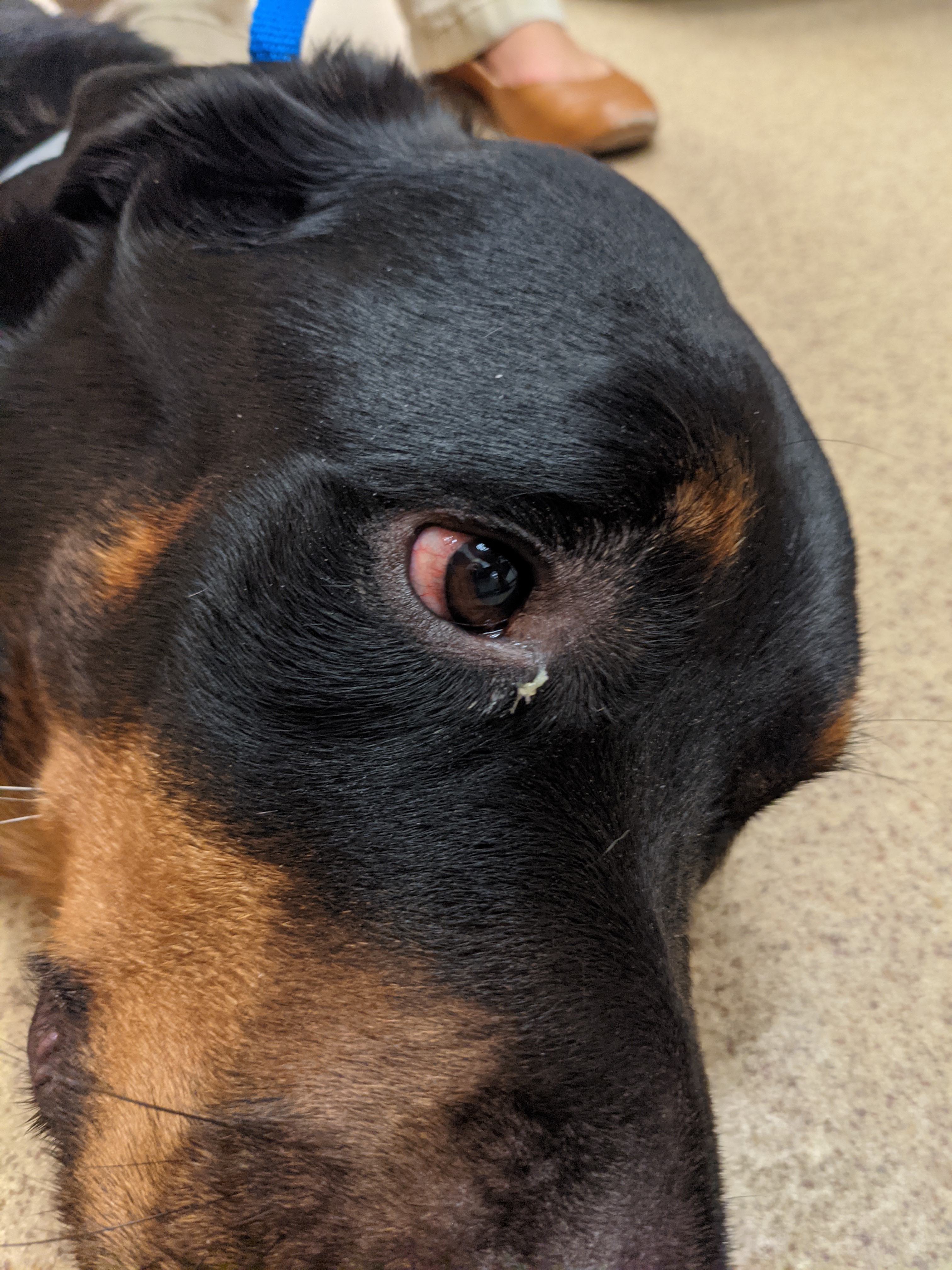 FIGURE 1
Scleral injection and mucoid ocular discharge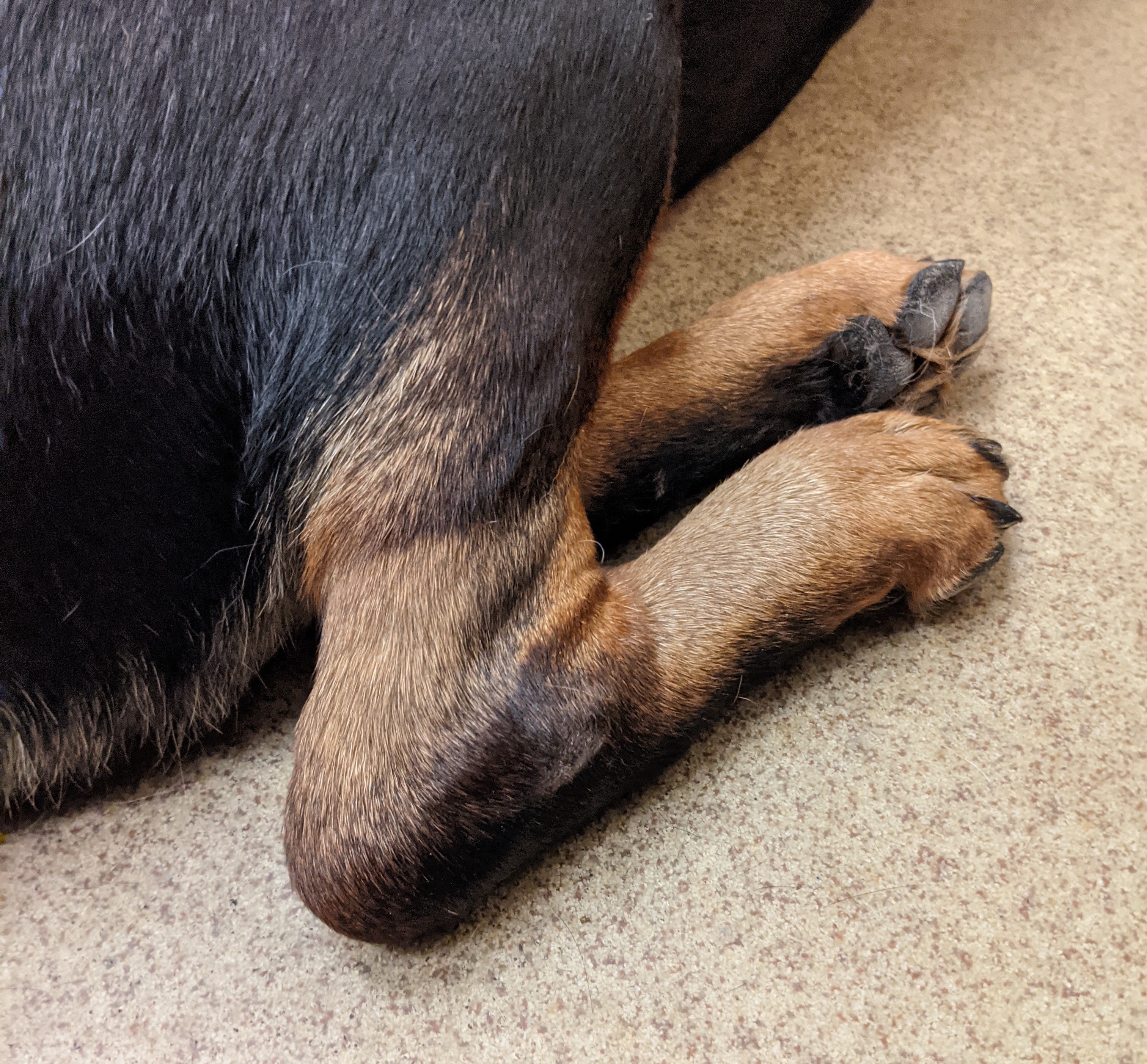 FIGURE 2
Mild edema of both pelvic limbs, distal to the tarsi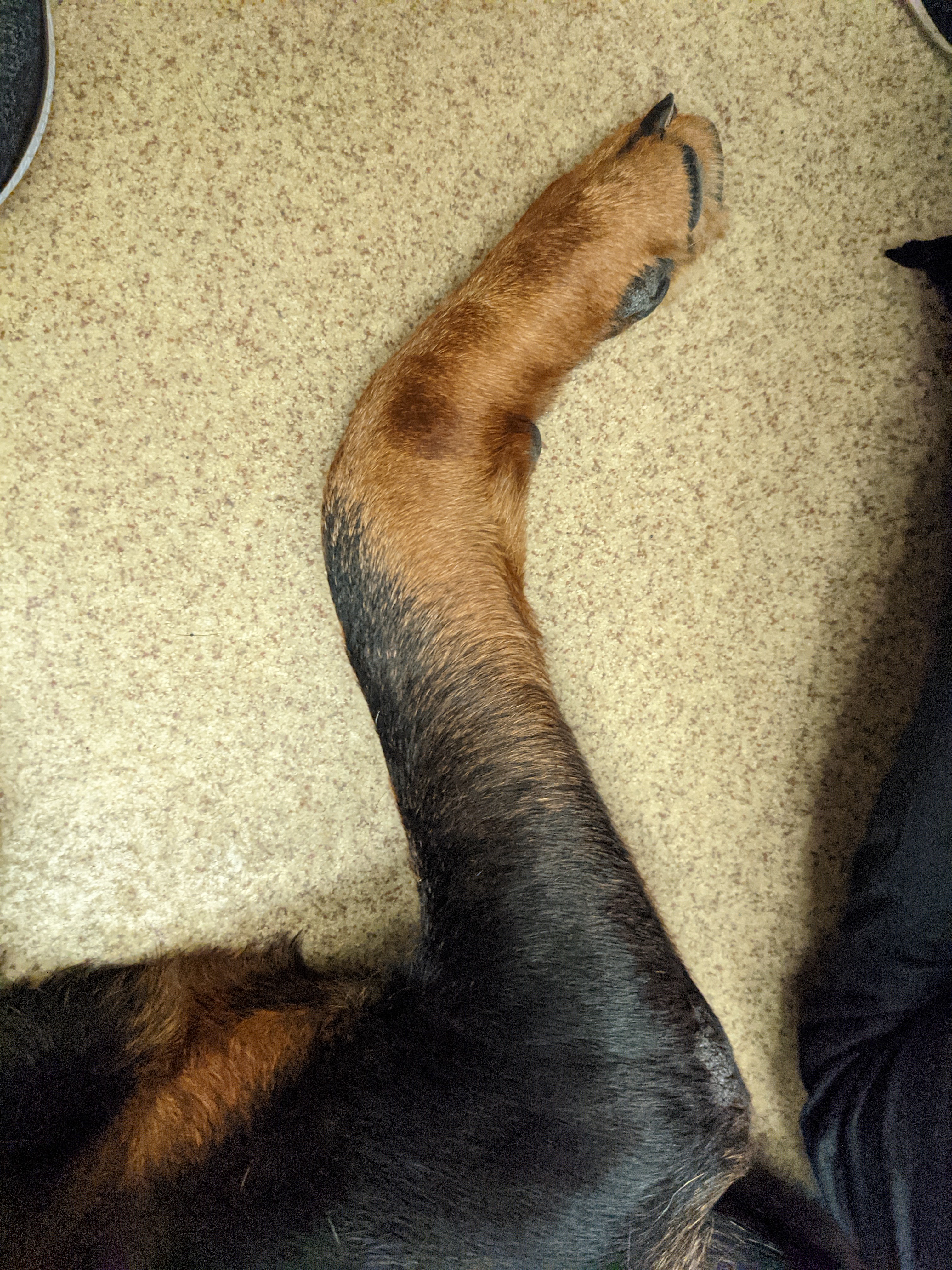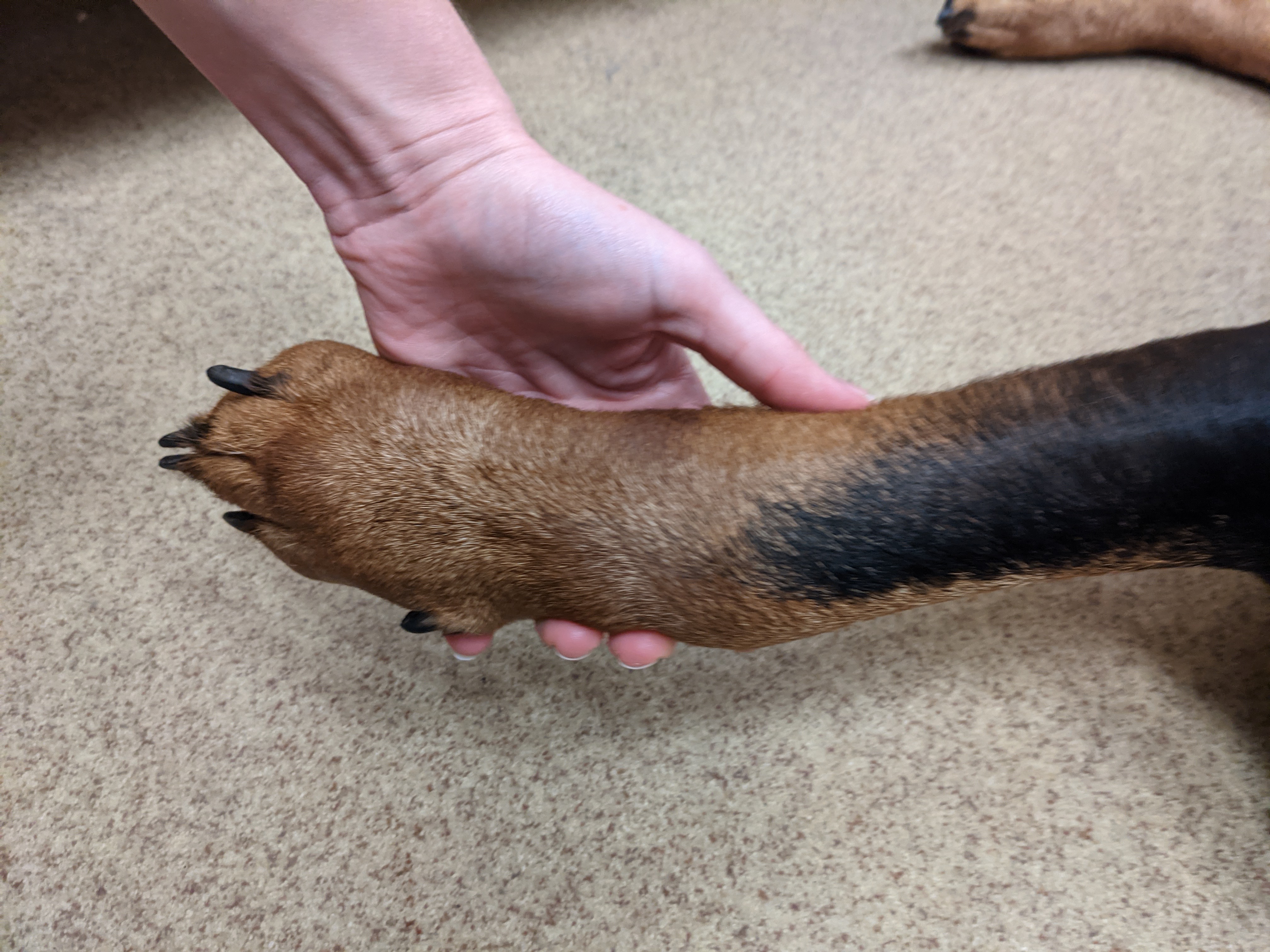 FIGURE 3
Moderate right thoracic limb edema (A, lateral; B, cranial)
How would you diagnose and treat this patient?
Treatment & Outcome
Thoracic and limb radiography were performed (Figures 4-6), and results confirmed suspicion of hypertrophic osteopathy due to pulmonary metastasis of the previously diagnosed osteosarcoma. Palliative care was initiated with prednisone (1 mg/kg PO every 24 hours) and acetaminophen (10 mg/kg PO every 12 hours). 
The patient was lost to follow-up, so response to therapy could not be assessed.
Discussion
In the author's experience, prednisone is more likely to result in clinical improvement of systemic signs caused by hypertrophic osteopathy as compared with NSAIDs. Prednisone administered in conjunction with acetaminophen (10 mg/kg PO every 12 hours) can result in a significant improvement in quality of life persisting for 2 to 4 weeks before a decline that prompts humane euthanasia. In some patients with a single intrathoracic mass or a few slowly progressing pulmonary nodules, surgery may be considered to remove the intrathoracic disease underlying the hypertrophic osteopathy process. In this patient, pulmonary nodules were too numerous for metastasectomy to be considered.