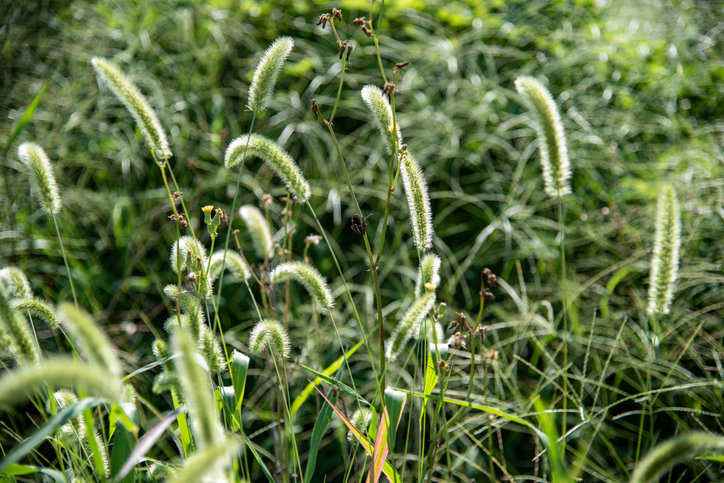 In the Literature 
Philp HS, Epstein SE, Hopper K. Clinical and clinicopathological characteristics, treatment, and outcome for dogs and cats with confirmed foxtail foreign body lesions: 791 cases (2009-2018). J Vet Emerg Crit Care (San Antonio). 2022;32(5):653-662. doi:10.1111/vec.13209  
---
The Research … 
Foxtail foreign bodies can cause a wide range of injuries, from local irritation to life-threatening illness, in dogs and cats.  
This retrospective study described the clinical and clinicopathologic characteristics, treatment, and outcome for dogs (n = 754) and cats (n = 37) with foxtail foreign body lesions presented to a university teaching hospital in the United States over a 10-year period. Records were reviewed for confirmed cases of foxtail foreign bodies, which require direct visualization via physical examination, endoscopy, surgical exploration, or histopathology. Most patients were presented in the summer months.  
In dogs, foxtail foreign bodies were found in the aural canal (28.6%), nasal canal (18%), and various cutaneous and subcutaneous locations (26.7%), 47.3% of which were interdigital. In cats, foxtail foreign bodies were most commonly found in ocular locations (81%) but were also found in the CNS, thoracic cavity, and genitourinary system.      
Most patients (86.1%) were presented with clinical signs (eg, head shaking, draining tract, persistent sneezing) related to foxtail foreign bodies; 11.9% of foxtail foreign bodies were found incidentally. Clinical signs can often be related to the foxtail foreign body location but vary in specificity and severity.  
Imaging included point-of-care ultrasound (POCUS), ultrasonography supervised by a board-certified radiologist, radiography, CT, and MRI. POCUS successfully visualized foxtail foreign bodies in 35% (7/20) of patients, whereas ultrasonography supervised by a radiologist was successful in 72.8% (83/114) of patients. Radiographic lesions associated with foxtail foreign bodies were seen in 69.2% (36/52) of dogs. CT identified lesions associated with foxtail foreign body migration in 100% of 78 dogs with suspected intracavitary migration; however, CT definitively identified the foxtail foreign body in only 15.4% of these dogs.  
Culture and susceptibility testing of 84 isolates performed in 80 patients identified 120 anaerobic and 110 aerobic bacterial isolates. Polymicrobial growth was common (67.9%). 
Management included outpatient (77.1%) and inpatient (22.9%) treatment. Nearly all dogs (99.5%) and cats (94.6%) survived to discharge.  
---
 … The Takeaways  
Key pearls to put into practice:  
Clinical signs generally reflect the foxtail foreign body location; however, foxtail foreign body injuries can be subtle. In this study, 44.4% of patients lacked specific clinical signs of intraoral foxtail foreign bodies. 

Ultrasonography is useful for diagnosing and guiding the removal of superficial foxtail foreign bodies; however, experience and training can significantly impact the success rate of visualization, and referral should be considered for complicated cases.  

Chloramphenicol or amoxicillin/clavulanate are appropriate empiric choices for infections associated with foxtail foreign bodies.  

Owners may consider at-home removal of superficial foxtail foreign bodies with tweezers, but foxtail foreign bodies deeply embedded or associated with redness, swelling, or discharge should be evaluated by a clinician. Incomplete foxtail foreign body removal can lead to further migration and injury.  

Although most cases occur during summer, illness related to foxtail foreign bodies in dogs is possible year-round. Pet owners can help prevent foxtail foreign bodies by avoiding grassy fields, regular grooming, use of protective mesh hoods, and frequent inspection of their pet for foxtail foreign bodies.  
You are reading 2-Minute Takeaways, a research summary resource proudly presented by Clinician's Brief. Clinician's Brief does not conduct primary research.